Select Videos (5)
Drums and Drones (acoustic):
Drums and Drones (electro-acoustic) with video by Ursula Scherrer:
Duo with harpist and composer Zeena Parkins:
Duo with saxophonist Catherine Sikora:
Yeah Yeah Yeahs ("Maps" compilation and "Date with the Night" excerpt):
Photos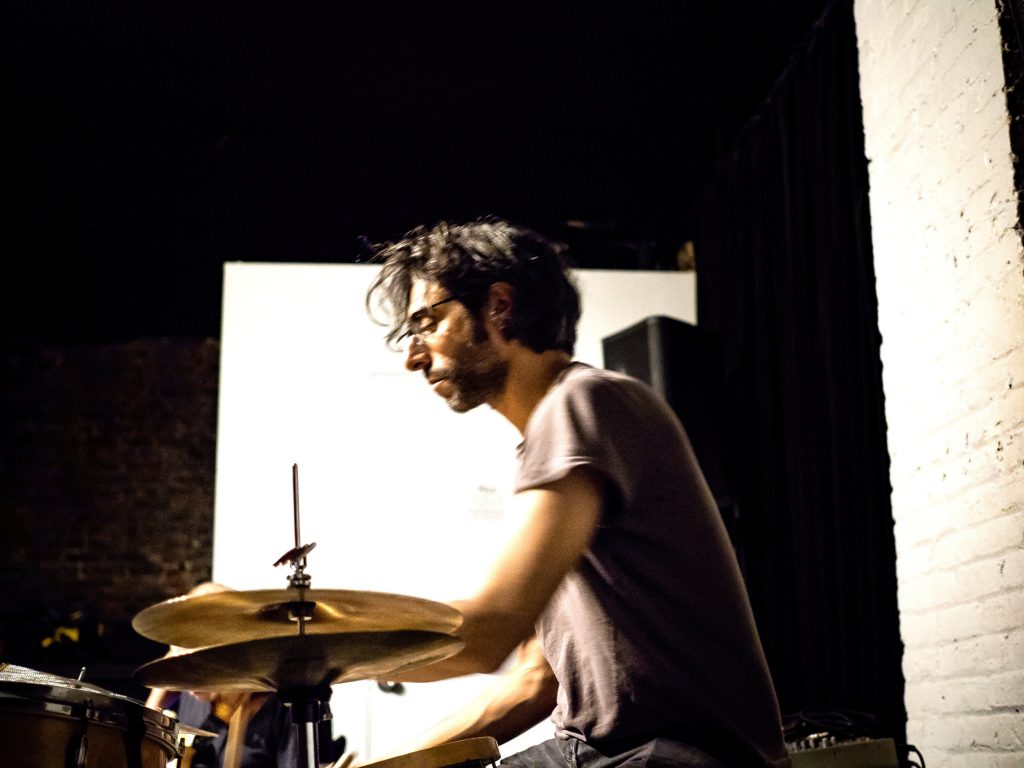 Click HERE for downloadable versions
Bio
Brooklyn-based musician Brian Chase is the drummer for Grammy-nominated rock band Yeah Yeah Yeahs, NYC's experimental music community and Drums and Drones, a solo project with a compositional focus on the harmonic resonances of drums and percussion. As an exceptionally versatile performer, Brian's music has taken him across the world to such notable stages as the Sydney Opera House, Metropolitan Museum of Art and Coachella as well as countless independent art spaces of music's 'underground' communities. In 2018, Chase started an independent record label, Chaikin Records, which spotlights pioneering figures of the avant-garde. The inaugural release on Chaikin Records was Drums and Drones: Decade, a triple album with 144 page book, described in The Wire as "an indispensable statement on how drummers hear sound." Additional releases by Chase on Chaikin Records include duo albums with harpist Zeena Parkins, pianist Anthony Coleman, saxophonist Catherine Sikora and a collaboration with visual artist Keti Katveli. As an educator Chase has taught at Bennington College and was a guest artist at So Percussion's SoSI festival and Yarn/Wire's annual summer institute. Chase's writings have appeared in John Zorn's Arcana series, culture blog Talkhouse and drumming trade magazine Modern Drummer. For more info visit chasebrian.com and chaikinrecords.com.
Press
"Brian Chase should demand your attention. He is the rare musician who's as much at home drumming behind the ecstatic yawp of punk legends the Yeah Yeah Yeahs as he is jousting with the cream of New York City's improvising coterie." – Modern Drummer, May 2019
"Drummer Brian Chase is best known as a member of the vital indie-rock band Yeah Yeah Yeahs, but that only reveals the tip of the iceberg where his creative life is concerned. A longtime participant in New York City's busy underground-music scene, Chase has performed and recorded with a dizzying range of innovators. . ."- Steve Smith, nationalsawdust.org/thelog/
"The double life of Brian Chase as both ubiquitous John Coltrane-inspired free improviser (dude gigs virtually every night) and spastic anchor of post-punk lifers Yeah Yeah Yeahs keeps the longtime Brooklynite firing on all cylinders. That double life has now turned into triple life, as Chase now heads up his own label, Chaikin Records. . . a manifestation of the diverse musical tongues that Chase and his peers speak." – Brad Cohen, bandcamp daily.
Social Media
Instagram: @brianchase123 and @chaikinrecords // Facebook: @brian.chase.39 and @chaikinrecords // Twitter: @brianchase123